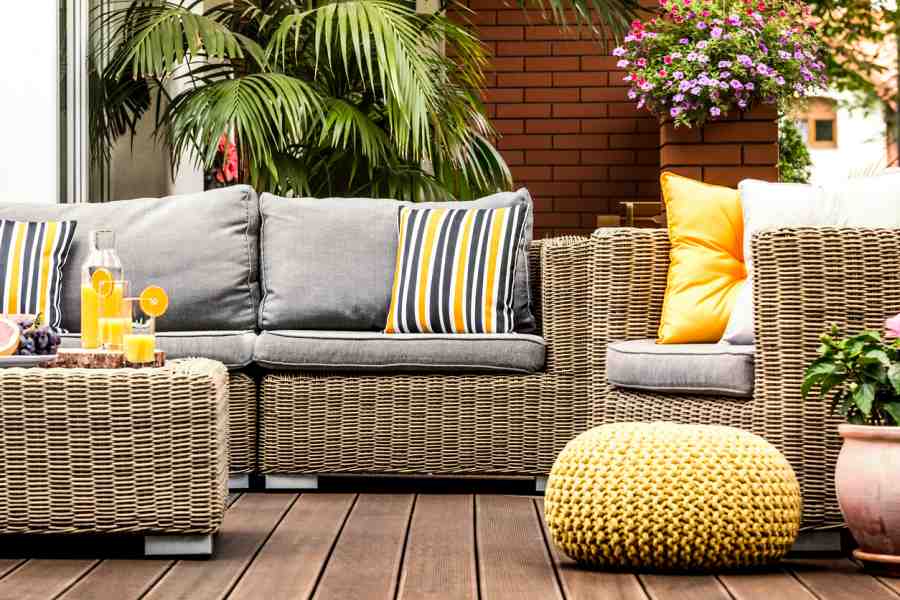 6 Affordable Ideas for Your Patio Makeover
As the world changes around us, you might find yourself staying at home more. But with summer here, it also feels great to be outside. Luckily for you, there's a way to have the best of both worlds, in your own backyard! A patio makeover is a perfect way to create your own personal space, whether you want a relaxing sanctuary, a place to entertain friends, or just a getaway to spend time with family. And with these affordable design ideas, you'll never have to worry about breaking the budget. Read this article for 6 affordable ideas for your patio makeover.
1. More pillows
Pillows are the best-kept secret for when you want to transform a space but don't have the funds for a complete makeover. They're inexpensive but can create an intimate and cozy atmosphere. Focus on bold and bright patterns to set a theme. Upholstered outdoor fabrics are also a great way to change a space from boring to lively.
2. Add greenery
You can't go wrong with decorating with plants. And there's a variety of ways to do it! Start a collection and form a montage of plants as a focal point. Or find a blank wall and grow them vertically for a visual display. If you're looking to brighten up your space, buy flowers like perennials. They're low-maintenance, long-lasting, and a guaranteed mood booster.
3. Set the mood
Putting up lights around the house isn't just for the holidays. A simple display of warm-colored lights can enhance any space. They're inviting, easy to install, and inexpensive. Find lanterns to use in the traditional sense, or string them along a fence or trees for a warm and subtle enhancement.
4. Invest in a DIY project
If you like to be hands-on and productive, a DIY project can be a fun outdoor project. Furniture can look worn over the years, but it's usually long-lasting. If your chairs are looking discolored, use a coat of spray paint to bring them back to life. Unconventional materials like wooden pallets or concrete blocks can also be used for tables and chairs. Think outside the box!
5. Use an outdoor rug
The right rug can elevate an area from drab to fab. If you're not comfortable with decorating, focus on finding a rug with a bold or colorful pattern. Then you can slowly find things to complement it from there. You can even use several rugs to define areas in a larger space.
6. Create a focal point
Depending on what your interests are, a focal point can elevate a backyard to viewers. Looking for relaxation? How about adding in a water fountain? Family spending more time at home? Invest in a projector for cozy theater nights at home. Even a fire pit is a simple, yet unique addition to your space.
With just a bit of creativity and resourcefulness, your backyard makeover could be your most affordable home project. While we adjust to more time at home, we should match our spaces to be mindful, meaningful, and memorable.