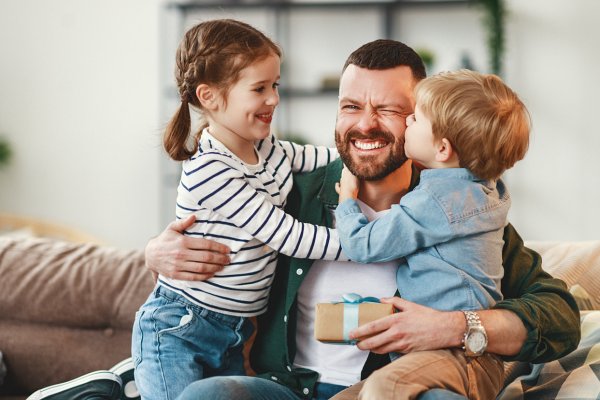 8 Things Dad Would Like for Father's Day
Father's Day is typically one of the more challenging celebrations. What do you get for Dad that he doesn't already have? You don't want to go generic and give him a gift that he doesn't need. Yet, at the same time, you want to express your love and appreciation. Of course, one of the best ways to do this is to spend time with Dad. A gift of time is incredibly precious, especially from older children who are not around so much. If you're looking for some ideas, here are eight things Dad would like for Father's Day.
1. Airbnb Experiences Gift Card
Your Dad may already have everything, but he probably doesn't have an Airbnb Experience Card. Send Dad on an intense experience vacation with a qualified guide or find an exotic place to relax. If he'd rather stay closer to home, Dad can sign up for one of Airbnb's many virtual experiences. You can customize the card design and choose your gift amount.
2. Vankyo Leisure 3 Mini Projector
With this Portable movie projector, Dad can turn any space into a movie theater. He may never want to return to the cinema. And what a great way to spend time together. The projector supports 1080P and 170" display, 40,000 hours LED lamp life, and is compatible with TV Stick, PS4, VGA, TF, AV, and USB. Available on Amazon.com
3. TruMedic InstaShiatsu+ Foot Massager
If Dad is an athlete, hiker, or spends a lot of time on his feet, he will love the truMedic InstaShiatsu foot massager. He can end his day with a deep tissue, heated Shiatsu massage that goes deep into acupressure points, bringing immediate relief and relaxation. Available on Amazon.com.
4. Sleep Tracking Pad
If your Dad is into data, he'll love this sleep tracker that goes under his mattress. There's much discussion today about the importance of sleep. But not just any sleep. What Dad needs is a healthy night of deep sleep. The tracking pad measures his sleep and provides feedback to help him improve his sleeping habits.
5. SRS-XB12 Portable Bluetooth Speaker
Made by Sony, this portable speaker fits into the palm of your hand yet delivers a powerful sound. The case is waterproof, making it the perfect gift for the beach or neighborhood pool. Dad can take it on his hikes, to barbecues, tailgate parties, and wherever he enjoys spending his time.
6. All Day Hoodie
Dad can never have enough hoodies, and this All Day Hoodie from Outdoorvoices.com is sure to be much appreciated. The soft knit fabric is perfect for jogging, late-night walk, movie night, fishing, mountain hikes, and everything Dad loves to do. You can give him just the hoodie or buy a pair of matching joggers to complete the look.
7. The Original Multi Charging Station
What's great about this gift that Dad would like for Father's Day is how tidy it will keep his digital devices while charging and between charges. The station powers up to five devices at once. The multi-charging station won the 2021 Good Housekeeping Organizing Award. The cords are placed neatly inside the station, revealing only the USB. Dad won't have to struggle with cords spilling out everywhere. Plus, there are slots perfectly sized for his smartphones, tablet, and laptop. You can choose Bamboo, Walnut, Black Leatherette, White Leatherette, Polished Chestnut, or White High Gloss finish. Available from greatusefulstuff.com.
8. Cell Phone Sanitizer
Our smartphone devices collect a lot of dirt and bacteria. Dad will appreciate this gift to keep his phone fresh as new. While the phone is charging, unhealthy bacteria is zapped away. You can find it on Amazon.com.
Bottom Line
Of all the things Dad would like for Father's Day, the most memorable and priceless gift is spending time with his family. You can skip all the presents and make it a special day for Dad. Cook his favorite food, do something together and create memories. Be sure to video and take photographs to share with all of Dad's extended family and friends.