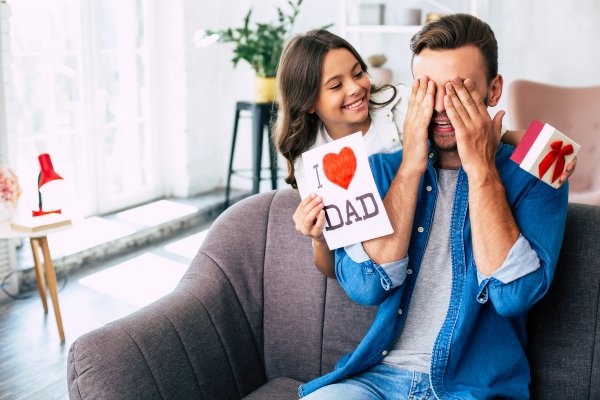 Affordable Gifts for Father's Day
Charles Wadsworth said that "by the time a man realizes that maybe his father was right, he usually has a son who thinks he's wrong." Wherever you find yourself on the timeline, now is an excellent time to start thinking about affordable gifts for Father's Day. Budgets are tight, especially now, but as the suggestions below demonstrate, you can find many great ways to show your father how much you love him without going broke.
Check out These Gift ideas for $25 or Less
Movie Night. How about movie night with your father? You can give Dad a Fandango Gift Card for as little as $15. You might not be able to go to the theater right now, but the card can also be used to rent TV shows and movies from the Fandangonow.com website.
Coffee Subscription. If Dad is a coffee lover, he might appreciate a coffee subscription. You can purchase one from Blue Bottle Coffee, a global gourmet coffee supplier. There are different subscription levels, depending on how much you can afford.
A Carabiner Cup from United by Blue. Not only is the cup well designed with a thermos-like interior, but the handle is a genuine carabiner, which means Dad can take it with him on those mountain hikes or camping trips. You can find one on the United by Blue website.
REI Membership. If your father enjoys camping or hanging out outdoors, consider an REI membership. For only $25, you can buy a membership for Dad to enjoy special offers, 10% dividends, special prices on classes and events, and access to REI's special clearance sales.
Beard Oil. Does your father have a beard? Having one brings a unique set of skin-care challenges. He might love Oars and Alps Cedarwood Forest Beard Oil. Jojoba, argan and other nourishing oils help relieve any itchy or flaky skin he might be experiencing.
Cologne. Cologne is a popular and affordable gift for Father's Day. Tommy Bahama Island Life Spray smells of nutmeg, cedar, and bergamot. Your father is sure to love the warm, spicy scent.
Power Bank. The Anker Astro E1 6700 Power Bank is perfect for a Dad on the go. It will power up all his devices, yet easily fits into his pocket. This is perfect if your father travels a lot.
These Affordable Gifts for Father's Day are all Under $100.
Build Your Own Drone. DIY Drone Builder Kit comes with all the materials your father will need to construct his own smartphone-controlled drone. You might have to remind Dad to let you in on the fun of flying it.
A Tablet. If he does not already have one, buy your father a Fire HD 8 Tablet. He can download and read all his favorite books, watch movies, and even play games. You can find it on Amazon.com.
Masterclass Gift Card. This is a great gift for the dad who already has everything. Masterclasses have become popular, especially today. Maybe he wants to improve his culinary talents, learn to sing, or paint, or become a blogger. He can learn from the professionals on his own time and fulfill his dreams.
Scuff Slippers. Maybe your father is spending more time around the house these days. Buy him a pair of Scuff Slippers from Amazon. Every time your father puts on his comfortable suede slip-on slippers, with fur shearling insoles he will think of you.
The Dad Hoodie. Are you buying for a new Dad? Consider the Dad Hoodie, from thedadhoodie.com. It is a popular alternative to carrying around a diaper bag. The hoodie comes with pockets inside that are designed to store baby bottles, diapers, wipes, snacks, and toys.
If you cannot afford to purchase a gift for your father this year, there are many things you can do for free. Consider gifting your Dad a book of coupons that he can redeem for your services, such as cleaning up the yard, washing the car or scrubbing down the grill. Take Dad to the National Park, or one of your local parks and trails and spend the day hiking.