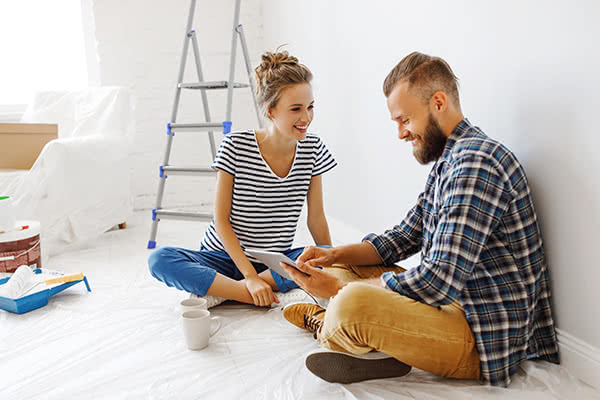 Use These Tips to Save Money on Your Next DIY Project
We've all been spending more time in our homes recently. Staring at the walls, thinking about what a fresh coat of paint would look like. I'd say maybe it's just me, but 80% of Houzz homeowners said they are considering remodeling changes in their home. So if you're a part of that 80% you probably want to start your next DIY project, however, you might not know where to begin. We believe most of the magic happens in the planning stage — setting yourself up for success without too many added costs. We know life can be hard on your wallet sometimes, and saving a bit here and there can add up quick and set you up for a wealthier future. And who doesn't want that? That's why we have put together a list of tips for you on how to save money every step of the way.
Research, Research, Research
Going into a project without fully knowing everything about it can end up being costly in the end. You might rush into painting a wall, only later realizing it needed a coat of primer and now you have to start all over again. Lucky for us, we are living in the golden age of Youtube tutorials. Don't hesitate to watch as many videos as you need to fully understand the process of your project before starting — it just might save you a coat of paint in the end.
Compare Prices
Research isn't limited to YouTube tutorials. Before you buy anything, don't hesitate to compare it to other products to make sure you are getting the best deal. Sometimes an extra 15 minutes on the computer can save you an extra $15. Not a bad hourly pay if you ask me.
Write It All Down
Keeping a budget spreadsheet can be helpful when starting a new project. It's always nice to have everything down on paper (or Google docs) before moving forward, that way you know exactly where your money is going. Creating a budget ahead of time can help you know if you can actually afford the DIY project, and assure you that in doing so you won't have to tap into your savings or put anything on a credit card.
Literally Do It Yourself
Before you dive into any DIY, make sure ahead of time that you can actually do it yourself. Labor can be costly, and usually makes up for most of the costs of a project. Skip the expense of paying someone else, and put the money back into your own pocket by tackling the project yourself. Unless it's electrical, in that case don't hesitate to call an electrician.
It's Not Settling If It's Saving
You may have your heart set on real hardwood floors or marble countertops. Lucky for you and your wallet, there are plenty of options that look like the real thing without the hefty price tag. Instead of hardwood, check out vinyl. And don't feel like you're settling, because in many cases the alternative is not only cheaper, but it's also much more resilient. Sure, hardwood floors are an eye-catching classic, but vinyl flooring not only comes in a range of colors and patterns, but it's also more resilient to water damage and scratches making for a much easier upkeep. Plus, there's always plenty of beautiful vinyl flooring options on clearance, and it is way easier to install than hardwood. With hardwood installations, you need to have a chop saw handy, but with vinyl all you need is a utility knife, a tape measurer, and the motivation to do it yoursel