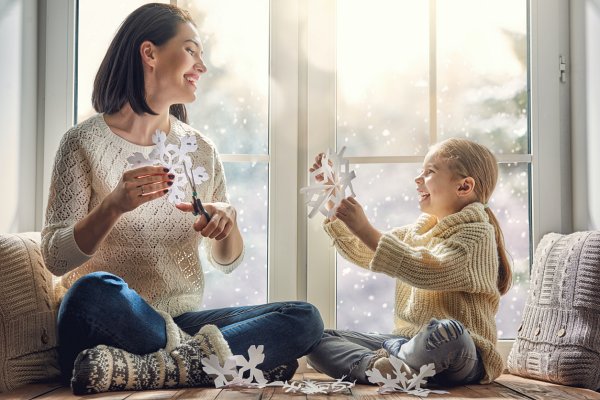 Winter Blues - Perk Up with These 18 Fun Activities
Brr, it's cold outside, and you feel you ran out of any fun activities ideas. But wait, there is something you can do individually or with the family. It's time to put on your thinking cap and put that creativity to use thinking of some fun things to do in the winter.
To help you get started, here's a list of winter activity ideas that you can enjoy outside or inside to keep boredom away.
1. Do a jigsaw puzzle
Jigsaw puzzles can be a fun time killer, and it's something you can enjoy with the family depending on how many pieces are in your puzzle. You also have the option to download and play jigsaw puzzles on your phone.
2. Have a snowball fight
If there's snow outside, have a snowball fight, make an angel in the snow, sled down a hill if there's a snowy one close by.
3. Build a snowman
Go traditional with a carrot nose and buttons for eyes or get more creative with unusual accessories.
4. Go on a date
Plan a winter dinner date with that special someone, or try some ice skating
5. Bake as a family
Baking is fun, create some desserts, then eat up.
6. What about a winter walk?
Bundle up and take a family walk through the neighborhood or to the park. You can also take a winter stroll with someone special.
7. Make some hot cocoa with a twist.
Normal cocoa is good, but have you tried cocoa with a twist? What's the twist you ask, well the twist is whatever you want it to be, whipped cream, marshmallows, candy canes, or even sprinkles.
8. Ever wanted to learn a new language?
The winter months are a perfect time to learn a new language for yourself or the whole family. Woo-hoo!
9. Family movie night
How about a family movie marathon night? It could be a fun family night.
10. Virtual yoga indoors
You can find some virtual exercising and yoga classes online. You can do it on your own time or register to join live classes.
11. Take a nice hot bubble bath
Add some drops of essential oil to your bath for a relaxing evening.
12. Change the scenery
Do you think this might be a good time to do some rearranging? Let's do it!
13. Pull out the recipe book
Try experimenting with food, and making some sauces, who knows, you just might come up with something the family loves.
14. Wake up your inner author
Start a blog if you love to write. The great thing is you will always have something to blog about.
15. Build a blanket fort
For the little ones, build a blanket fort and decorate it with their favorite characters. But wait, forts aren't only for kids, you can have a blogging fort.
16. Treasure hunting time
Keep the kids entertained with an indoor treasure hunt. Hide money, snacks, and anything else you can think of. The kids will have a ball and so will the adults.
17. Make some origami
Grab some paper and make origami with the kids, start small and work your way up.
18. Scrapbooks are great
Create a scrapbook with pictures, notes, and anything that you can think of to make your scrapbook unique to you.
Winter is not so bad for homebodies, but for outgoing, adventurous folks, not so much. Don't let the cold winter months give you the moody blues, have some fun with the above activities, great for yourself and your entire family.