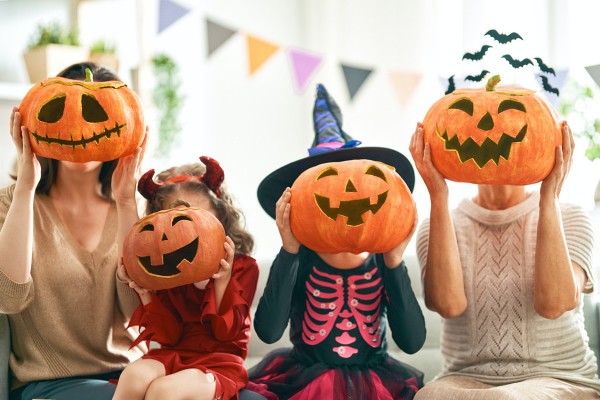 5 Tips to Keep the Halloween Spirit Alive
This year has been difficult in many ways for nearly everybody. Now that the Holiday season is upon us, it can be hard to keep the spirit alive especially for Halloween traditions such as trick-or-treating with your children or grandchildren. In an effort to keep safe, it may not be a great idea to wander neighborhoods collecting candy or attending large Halloween themed costume parties. While Halloween traditions like trick-or-treating and costume parties may be in danger this year, there's still plenty of ways you can keep the Halloween spirit alive in your home.
Decorate Your House
Halloween season lasts for the entire month of October which gives you plenty incentive to go a little crazy with Halloween decorations. Smart lights that have customizable colored bulbs can be a great way to give your house orange colored lighting without having to take them down every year. In addition to lights, consider carving your own jack-o-lanterns and setting them outside your house near the front door. Other decorations like plastic spiders, cobwebs, and sheet ghosts are classic decorations that immediately bring Halloween to mind.
Enjoy a Horror Movie Marathon
Nothing screams Halloween like, well, screams. Horror movies and Halloween go hand-in-hand and many horror movies are even themed around the holiday. Pick a time during the month of October to sit on the couch with some blankets, snacks, and a list of horror movies to relish in a cozy but scary horror filled night.
Wear a Costume
Trick-or-treating and Halloween themed costume parties may be difficult this year, but that doesn't mean you and your family shouldn't wear a costume anyway. Putting in the effort to come up with a creative costume like you normally would, can go a long way in reviving the Halloween spirit. In an age where our lives are so ingrained with social media it can be easy to show all your friends and family your costume virtually.
Engage in Trick-or-Treat Alternatives
Consider coming up with a trick-or-treat alternative for your kids or grandchildren this year. For many people, trick-or-treating is a tradition that is a major part of growing up. An example would be to borrow an idea from another holiday and do a sort of Easter egg hunt, but with Halloween candy. Kids will still love it and it will help alleviate the disappointment of not being able to trick-or-treat this year.
Create Halloween Themed Foods
Desserts and snacks are another major part of the holidays, and Halloween is no different. Spend some time this Halloween season in the kitchen with your family coming up with some spooky food ideas. Make eyeball shaped cake pops, or spider biscuits that will be perfect to enjoy during your horror movie marathon night.
The events of this year have certainly hampered the ability to do many of the Halloween traditions you normally enjoy, and that can dampen your Halloween spirit. Following the above tips can go a long way in helping to revive that Halloween spirit for both you and your family and assist in restoring some normalcy in an otherwise abnormal year.