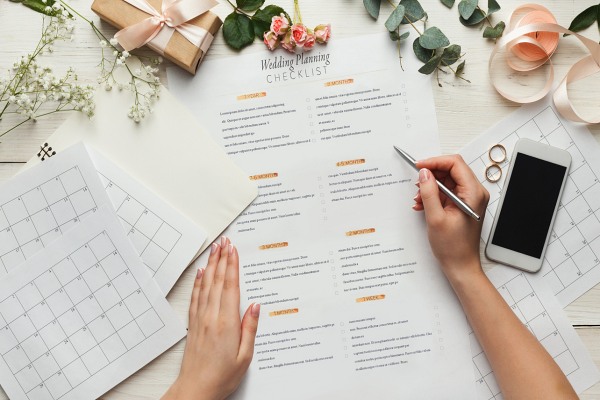 6 Things to Consider When Creating Your Wedding Budget
Every couple wants a special, meaningful and memorable wedding. However, a lot of work goes into planning the perfect wedding. With the average cost of a wedding in the U.S. standing at $33,900 in 2019, creating a wedding budget is a critical part of the planning process. A realistic budget will make it easier to raise the required funds and contribute to a successful wedding ceremony.
Here are a few things to keep in mind when creating your budget. 
How Much You Need For The Wedding
The first thing you should do is to determine how much money you need for your wedding. This amount should be based on what you can afford rather than the promises your loved ones have made regarding the wedding. When setting a budget, you should consider breaking down the total budget into categories and figure out how much you will devote to each item.
How You Will Pay For The Wedding
Once you know how much will be spent on the wedding, you need to think about ways of raising funds for the event. As a couple, you should start by deciding how much money you will save for the big day. Depending on your circumstances and preferences, you and your partner can also choose to take out a loan to pay for the wedding. Another option would be to ask for help from relatives.
The Wedding Location
Your wedding venue makes up a significant portion of your overall budget, and is likely to be one of the biggest expenses. Larger venues in popular areas will charge more than small ones outside the cities. You should also think about the policies and packages that your preferred venue has. When setting your budget, you need to consider travel costs and whether you will pay for accommodation for any family members.
The Number Of Guests
It goes without saying that the number of guests for your wedding will affect your budget. Because this is an area that can easily get out of control, choose your guest list carefully and stick to it. Also, find out what the average cost per guest will be so that you can allocate your wedding budget accordingly. You may want to have a flexible budget that accommodates a few extra guests.
The Time Of The Year
Wedding seasons have a huge impact on costs. Things tend to be more expensive during the festive season, a factor that will push up your budget if you plan to get married during this period. Also, Saturdays in the summer make for the most popular days to get married and are usually the most expensive. When creating your wedding budget, you should think about how your wedding date will affect your overall budget.
Consider The Most Important Things First
Your wedding day is a day you will remember for the rest of your life. When creating a budget, you have to consider what's most important for you. Whether it is a beautiful dress, makeup, amazing decor, stunning pictures or the best food and drinks for your guests, you should have the things that make you happy at your wedding.
Creating your wedding budget can be overwhelming. However, working with a financial expert will go a long way in helping you plan your dream wedding. This way, you will enjoy your big day without worrying about getting into unnecessary debt.