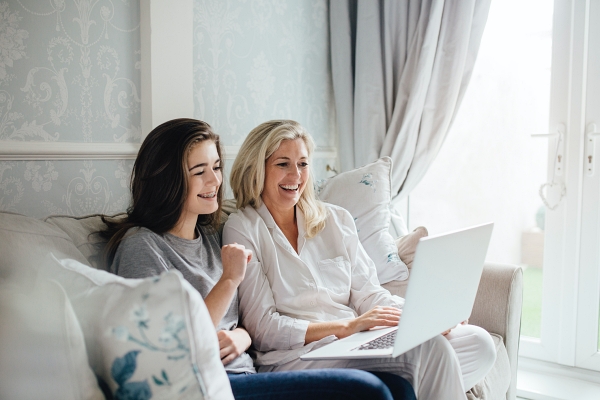 Affordable Tips for Celebrating Mother's Day During COVID
Even though quarantine is keeping us all at home, that doesn't mean we can't celebrate Mother's Day this year. There are still plenty of ways to show Mom love from wherever we are. Here are a few affordable ways to celebrate from home:
Flowers
Getting flowers can be expensive, but there are many affordable ways to show your love through flowers. First, check if your local nursery is still open. Nurseries usually have a wide selection of potted plants at an affordable rate. Choose a few that catch your eye, along with some decorative grass, and put them in a nice planter for the porch. This is a thoughtful gift that is sure to put a smile on your mom's face! If the local nursery is closed, there are a few other options, like planting a flower garden, so she can have flowers all year round. Burpee's sells flower seeds at a low price. A lot of their seeds are under $10. Another option, if you aren't quarantined with your mom, is to have flowers delivered to her house.
Breakfast in Bed
Making Mom breakfast in bed is a great way to show your appreciation for everything she does! Check your pantry for food you can use. Start with the basics, eggs and bacon or sausage, and continue from there. Make sure to include a drink like orange juice or coffee. Homemade cinnamon rolls are always a great addition to breakfast, and you can easily make them with what's in your pantry. Cut up some fruit, if you have any, and make a simple fruit salad.
Video Call
Not everyone will be able to see their mom face to face this Mother's Day, so make some time to host a video call. Don't be afraid to include the whole family! This is a good opportunity to have some quality family time. You could even get out some games to get everyone involved and turn it into a virtual family reunion!
Make a Homemade Card
Getting a card from the store is a nice gesture, but making your own is even better. It's also a great way to spend quarantine and save money. Get creative! If you have shaving cream and food dye on hand, you can make a cool marbled card. Any kind of DIY card is a good way to go. It shows the time and effort you put into making Mother's Day a special one!
Virtual Coffee Date
Although most coffee shops are closed, you can still have some quality one-on-one time with your mom over a latte. All you need is coffee to drink and a phone to video call her on, unless she's in the same house as you. If you want to get fancy, you can watch a latte tutorial, but you definitely don't have to.
Movie Night
Movie theaters are one of the casualties during this pandemic, so you'll have to get creative if you want to provide a "movie theater experience". Make some popcorn if you have any and turn on a movie. This can also be a family activity, so invite the whole family to join if you want.
Just because we're all at home, doesn't mean we can't find memorable ways to celebrate Mother's Day. A celebration or virtual party is a great way to keep everyone's spirits up!