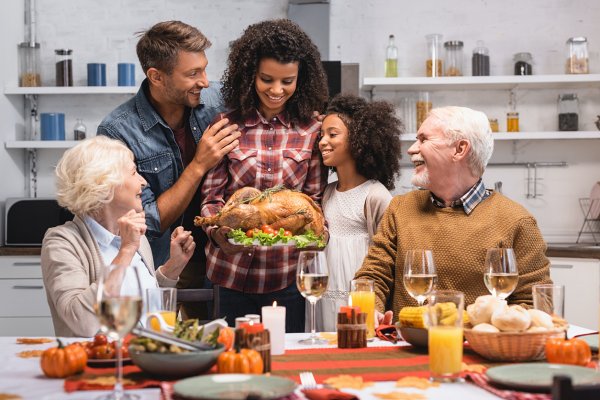 Giving Thanks: 10 Tips to Make This Year's Thanksgiving Special
Thanksgiving may look a little different this year, but that doesn't mean you can't enjoy this holiday with your family and friends while giving thanks for all you have. Below is a cornucopia of ideas to make this Thanksgiving extra special.
Savor Through the Screen
Cooking and nibbling are an all-day affair on Thanksgiving, so bring in family and friends safely by connecting virtually. Share your tips for your tremendous turkey and give advice on your mouth-watering appetizers. Plan ahead and share your favorite recipes with family and friends and find a time to connect and compare your chef-savvy skills.
Bring the Brew
With the cooler temperatures, it's the perfect time to make a warm and comforting cocktail. Drinks that add pumpkin, apple, and spice take Thanksgiving up a notch. There are tons of recipes you can find to make this holiday even more homey.
Decorate Your Dwelling
Nothing screams Thanksgiving like a handmade turkey on the table. Decorating for Thanksgiving is an activity for everyone to enjoy. Have the kids make those classic, hand turkeys or let them help you with a new craft, like painted pumpkin place cards. Decor doesn't have to stay on the dinner table, however, bring those thankful thoughts outdoors with pinecone wreaths or gourds galore.
Be Part of the Parade
The Macy's Thanksgiving Day Parade is still happening this year, and although you won't see the crowds cheering them on, you'll be one of many Americans tuning in to see their favorite inflatables.
Gobble Up Some Game Time
After you've enjoyed your fantastic feast, there's nothing better than settling down in your favorite, fluffy chair to enjoy some game time. Find your favorite football game and watch and cheer with the family or even get a second helping before you nod off mid-game.
Get Moving
Pre or post banquet, there's always a good time to enjoy the great outdoors. Relish in the crisp air, adore the changing leaves, and play some catch with the kiddos.
Thanksgiving Thank Yous
This time of year, it's important to remember what's most important to us, whether it's friends or family, our four-legged fuzz balls, or the feast on the table, take time for everyone to share how thankful they are this year. Make cards for others or put why you're thankful in a bowl and share around the table, there's always time to tell others what you're thankful for.
Get Together for Games
Everyone loves a holiday-themed game. Get creative this season and make some Thanksgiving Mad Libs, bingo, or even create your own scavenger hunt. There are a lot of games you can enjoy with the entire family. You can make your own or purchase online, but either way, these games will be sure to get the whole house in the Thanksgiving mood.
Watch a Feel-Good Movie
On Thanksgiving there's always a harvest of feel-good, fall movies to watch. Grab your favorite blanket, lower the lights, and enjoy watching some of your favorites.
Soothing Scents
At the end of a successful Thanksgiving, unwind with the scents of the holiday. Light up your favorite pumpkin-spiced or apple pie candle and enjoy as your home is filled with those fall feelings.